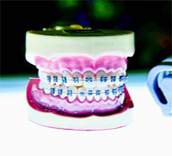 What is Non-Ligating Braces
The newly developed non ligating braces not only causes less discomfort, but they also straighten teeth more quickly. The non-ligating braces consist of bracket slots made of titanium alloy, which keeps them flexible, unlike those used in typical braces. When force is applied by the wire during orthodontic treatment, the bracket slots flex.

In conventional braces, bracket slots are held together by rubber band or clips. Pressure from the wire, which is placed over the slots, then helps to move the teeth into the desired position and that may cause pain and discomfort to the patients. The new non-ligating braces works better and faster than conventional braces as it requires no additional measures to secure the wire.